Posted by T. Budd on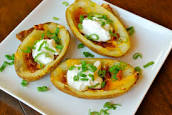 Here's an easy one that is always a hit at parties and at Game Time!  You can even keep the insides for mashed potatoes later. You will need: 4-6 medium baking potatoes. 1 Tbsp. Caribbean Spice Habanero Sea Salt A small bunch of green spring onions. 1/2 cup of sour cream 1/2 to 1 cup shredded Colby or Cheddar cheese. Bacon bits optional. Prep: Preheat oven to 350 degrees. Wash potatoes well and score them with a knife. Remove the potatoes and let them cool enough to handle. Cut them in half and scoop out the center with a spoon...
Posted by Elizabeth Vidrine on
Mayan Spinach Herb Omelet
If you want to try this out, just click read more for the ingredients list and preparation!