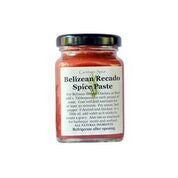 Belizean Recado Paste
The essence of Belize in this little jar.  It has all the Belize spices you need to make the famous stewed chicken dish, stewed beef or pork.  This is a concentrated spice paste so a little goes a long way. It makes preparation a breeze!
Enjoy the taste of Belize!
Preservative, Gluten, Sugar Free