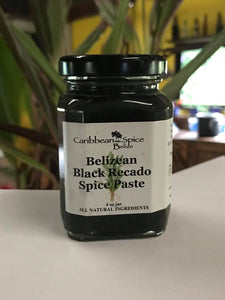 Black Recado Paste
This is what is used to make Chimole a beautiful soup that is very different from anything else you have ever eaten.  It is of Mayan origin and it is customary to make it on New Years Day here in Belize. You can make it with just chicken as well
Recipe below
1

 

chicken divided

1

 

pound

 

ground pork

3

 

hard-boiled eggs

 

chopped into small pieces

2

 

raw eggs

3

 

Tablespoons

 Caribbean Spice Belize 

black recado spice paste

2 to

matoes diced

1

 

bell pepper diced

1

 

onion diced

INSTRUCTIONS

In a small bowl add the Ricardo with enough water so that it will dissolve 

In a separate bowl mix the ground pork w the raw eggs, and make meat balls

Brown the chicken and meatballs

When the chicken is brown put in large pot, add the Ricardo liquid and fill the pot with water or chicken stock until the chicken is covered.

Add in the diced tomatoes, diced pepper, diced onion and bay leaf - cover the pot and cook over medium-high heat for 30 minutes.

Add the meat balls and cook another 5 minutes or until done

If you like your soup thicker, just add a bit of cornstarch mixed with water at the end.

Serve with rice, boiled egg and corn tortillas.